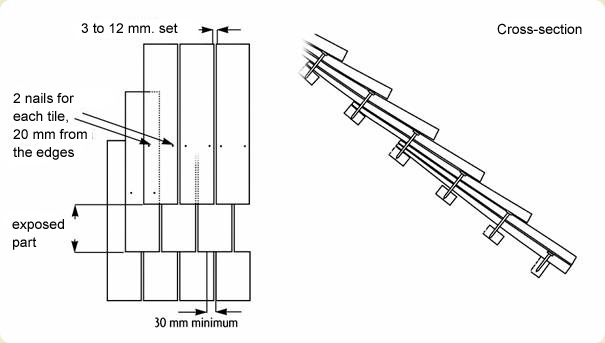 Tiles are always installed with the wood grain on the vertical and with the narrowest end pointing upwards. Las tejas se montan siempre con los hilos de la madera en el sentido vertical y el extremo más fino hacia arriba. The 600 mm. x 120 mm. wood tiles are placed leaving between 180 mm. and 200 mm. exposed (the visible part) for the entire slope higher than
30 %.
For slopes between 25 and 27 %, the exposed part must be 160 mm.
For lower slopes, an additional waterproofing device should be installed. The installation called « decorative or snow-catcher » is done by leaving a 400 mm. exposed part.
Tiles are installed on strips with a separation between them that is equal to the length of the exposed part.
The second row of tiles is attached to the first row at the base of the roof (doubled).
Separations of 3 mm. to 12 mm. must be left between two tiles.
Joins or vertical separations between tiles must be in the middle of the preceding row, shifted for a minimum of 30 mm., and they shouldn't line up for at least three consecutive rows. Tiles are attached by two holes per tile at some 20 mm. from the edges and 40 mm. above the line of the exposed part o that they are covered up by the following tiles. The nails should penetrate to a level where the head ican be felt protruding but it does not destroy the fibre of the wood. Length is 45 mm. for the JUMBO and 38 mm. for the STANDARD.

Warning: if the natural wood is too dry it should be dampened before installation or perforated first.
This installation description follows Norm NF P 65-210-1 and our implementation instructions.